A Convoy businessman has again warned that he will encourage hauliers to bring the country to a standstill if the new Government does not listen to their demands.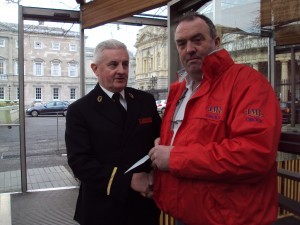 John McLaughlin, of JML Transport, has said he has spoken to dozens of other truckers who have agreed to blocks ports and roads unless action is taken within three weeks of the new Government taking office tomorrow.
His pledge comes as petrol hits an all-time high of more than €1.50 per litre at pumps across the country.
Mr McLaughlin, who led the recent protest from Letterkenny to Dail Eireann to protest about taxes on fuel, has already met with Taoiseach-elect Enda Kenny when he visited Donegal the day before the recent election.
On that occasion Mr McLaughlin outlined his concerns to the Fine Gael leader and told him he was seeking an urgent meeting if he got into office.
Mr McLaughlin has now reminded the new Government that he will take action unless the proposed meeting does not take place with the three week timeframe.
"It will take us a day or tow to organise it but I can guarantee people that we will block roads and block ports unless we are listened to.
"This is not a selfish act on behalf of hauliers. This action is being taken on behalf of the entire population. We cannot just sit back and allow fuel prices to go through the roof.
"Everyone is suffering and people are now spending more on their cars than they are feeding their children. It just can't go on.
"We will block every road and every port unless the new Government meets wit us and takes us seriously," he said.
Ends