Wanted – Donegal people to jump into the water with basking sharks which can grow as long as, and weigh as much as, a double-decker bus!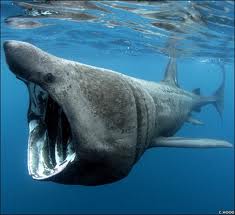 It may sound like the most dangerous job in the world after being an election candidate but it's not as bad as it sounds.
The Irish Basking Shark Project is looking for volunteers from Donegal to assist them in their latest project.
The waters off the coast of Donegal are one of the most popular on earth for the massive but docile creatures which live mostly on plankton hovered up by their huge mouths.
Emmett Johnston, a wildlife ranger based in Inishowen, is the leading authority on the sharks which gather in huge numbers off Donegal each year.
Johnston and his team have conducted a number of groundbreaking surveys in a bid to find out more about the elusive creature living in our back garden.
 In 2009 the group was the first in the world to deploy visual tags and receive visual sighting returns and also the first to establish scientifically robust population density and distribution figures for any water body world-wide.
In 2010 the group was the first in the world to develop an effective genetic sampling method for basking sharks, enabling the tripling of all world-wide genetic samples in one year.
In 2011 the team intend to go beneath the waves and investigate the sharks dive patterns and surfacing frequency.
They hope to link this to meteorological and hydrological drivers which will enable them to predict the shark's behaviour during particular weather and geographical conditions.
 They need members of the public to assist with this project in a bid to help protect Ireland's most iconic marine species.
Basking sharks are not protected by Irish legislation and were caught in Irish waters until 2008. Since then an E.U. moratorium has reduced the quota to Zero.
However this is not a secure form of conservation and could be increased at any time. The Irish research team is aiming to produce a species action plan, which will provide a road map for the conservation of the species.
Anybody in Donegal who would like to assist the project in any way can contact www.baskingshark.ie
Ends