Having picked up an opening day point in the 2-2 draw against Limerick last weekend, Finn Harps make their first journey away from Finn Park on Saturday evening when they travel to the midlands to face Athlone Town.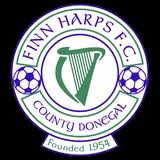 By Joe Gallagher
 James Gallagher and his side will argue that they could have taken the full compliment of points last weekend, but nevertheless an opening day draw against a team who are self-proclaimed title challengers is a welcome result.
 "It was an exciting enough game for those that turned up to watch it with four goals and plenty of incidents," commented the Harps boss in the wake of the Limerick game. 
"There were plenty of positives and a few negatives in our performance and now that the dust has settled we are a little bit disappointed with the two goals we gave away.  When both sides had gone down to ten men, it was pleasing for me that we looked the fitter and stronger team in the latter part of the game, so that bodes well for the future.  We had a good pre-season under our belts and that certainly helped last Friday."
 Gallagher was pleased with the attitude and commitment of his players, but conceded that it would take a bit of time for some players to gel into the new season. 
"It's going to take a few players a number of games to get up to speed, like Conor O'Grady who played little or no football last year.  He had got a few games under his belt during pre-season, but he will only get better and stronger once he has played more competitive games.  You can see even from Friday night last how valuable a player he is going to be for us."
 Gallagher too was full of praise for skipper Kevin McHugh who opening the scoring against Limerick.  The fourth minute strike from McHugh means that he is now level with Con McLaughlin in second place on the Harps all-time goalscorers list with 138 goals for the boys in blue in all competitions. 
"There is no doubt about it that Kevin looks leaner, shaper and fitter than this time last year.  He also is hungry and that is partly due to the extra responsibility as Captain this season and that will probably spur him on that wee bit more which will obviously benefit him and the team.  His attitude since he came back to the club last year is first class."
 Although McHugh will be the man that Gallagher and Harps look to for goals as the season progresses, the Harps boss was delighted to see one of his new signings get on the scoresheet. 
He says that it is vital that other players step forward with more goals this year to help ease the burden on McHugh. 
"I felt when I brought Gareth Harkin here that he would chip in with the odd goal and he got off to a great start on Friday night.  As the season goes on, we would hope to see more of him on the scoresheet along with goals from the likes of Marc Brolly and Tommy Bonner.  We need other players to chip in and help Kevin to put the ball in the net."
 Harps had to play the last half-hour of Friday's draw against Limerick with ten men after the sending off of midfielder Mark Forker for a challenge on Limerick's Gary Sheehan.  Gallagher was as much dismayed with the red card as were the watching Harps supporters. 
"I don't want to say too much on the sending off, but having seen the referee's report, it certainly doesn't seem like the same incident that happened during the game on Friday night.  For me, the ball was there to be won and that's exactly what Mark done.
"It's disappointing for Mark because he wants to play, but because of the decision on Friday night he has to miss out in Athlone.  If I felt one of my players had made a challenge that I felt wasn't fair, I would be the first one to criticise him for it.  But there is no way that I could criticise Mark in any way for what I felt was a good tackle on Friday."
 Harps were back in action less than 48 hours after the Limerick game when Celtic provided the opposition at Finn Park on Sunday afternoon. 
Harps started the game with a near full strength starting eleven with Gary Whoriskey replacing Mark Forker in the only change from the Limerick game.  So, does that give us clues as to who might feature in Saturday's line-up at the Athlone Town Stadium?
 "We went with the decision we did against Celtic as it gave us the opportunity to try a few things.  We played Gareth Harkin in a more central role in midfield – a position he has played mostly in the past – and I was also delighted with the performance of Marc Brolly on the right hand side.  He gave Celtic loads of problems and as I said, the Celtic game gave us the opportunity to try one or two things.
 "The team that started against Celtic might very well be the team that plays in Athlone, but we have two training sessions between now and the Athlone game where we will work on a few things.  I normally never finalise my starting eleven until after the last training session of the week, so we could change a number of things from the shape we start with to what personnel we play."
Harps have won on each of their last two trips to Athlone (1-0 last season, 6-0 the previous season), but prior to that, Harps hadn't recorded a victory in seven trips to the midlands which included being dumped out of the FAI Cup twice. 
"We had a pretty poor record in Athlone up until recently, but in the last couple of years we have had positive results down there.  It's a difficult place to go, but at least we know when we go there we will be playing on a great surface and the facilities are top notch.
"They had an excellent result last week, when many were tipping Waterford to win easy.  They went to the RSC and picked up a point and kept a clean sheet – something we haven't done in Waterford for a long time.  So, Saturday's game is going to be really difficult."
 On the team front, Gallagher will again have to plan without Garbhan Friel, while he also has slight doubts on the fitness of defenders Packie Mailey who has a chest infection and Ciaran Coll who took a knock to the knee in the Celtic game. 
Mark Forker will serve an automatic one match ban due to his sending off last weekend.  "Garbhan got some bad news regarding his injury at the start of the week, so he is going to be out for the next five to six months.  It's a blow to not only us, but the player as well," said Gallagher.
Athlone Town Stadium, Saturday 12th March 2011 – Kick-off 7.30pm
Suspended: Mark Forker
Doubtful: Ciaran Coll (knee), Packie Mailey (chest infection)
Injured: Garbhan Friel (knee)
Unavailable: None.
Form Guide (last six league games)
Finn Harps: D-L-W-D-W-D (9 pts)
Athlone Town: D-D-W-L-L-D (6 pts)
Last six games away to Athlone Town
28-Apr-07 – Drew 2-2 (First Division)
01-Sep-07 – Lost 0-1 (First Division)
06-Jun-08 – Lost 1-2 (FAI Cup)
18-Apr-09 – Drew 2-2 (First Division)
09-Oct-09 – Won 6-0 (First Division)
10-Jul-10 – Won 1-0 (First Division)
Finn Harps Goalscorers 2011
Gareth Harkin – 1
Kevin McHugh – 1
Finn Harps Results 2011 (Harps goalscorer in brackets)
4th March 2011 – Finn Harps 2-2 Limerick (McHugh, Harkin)