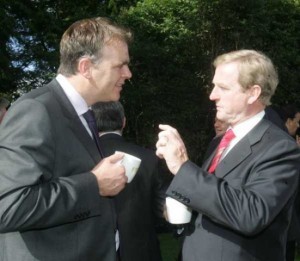 FINE GAEL'S two Donegal TDs took their seats on the Government benches this afternoon as a new era under Fine Gael and Labour began.
Dinny McGinley is expected to be confirmed as a Minister for the Gaeltacht later; though the office will now be a junior ministry.
Speaking to donegaldaily.com at Leinster House this afternoon Deputy Joe McHugh welcomed the change in government with Enda Kenny as Taoiseach and Eamonn Gilmore as Tanaiste. 
Mr McHugh said that employment and job creation are the two priorities of the new Programme for Government.
Deputy McHugh said that the Programme for Government contains guarantees to protect existing jobs, and that the Programme will facilitate growth in this region's fisheries and tourism industries.
Speaking on the first day of the new Dáil Deputy McHugh said: "The new Programme for Government is a realistic policy agenda that will protect existing jobs and facilitate jobs growth in key sectors that are important in the northwest.
"The commitments to keep corporation tax at 12.5%, and to keep employers' tax and income tax at current levels, are designed to protect existing jobs including jobs in the international companies that provide major employment in Donegal. And the Programme for Government puts fisheries, agriculture and tourism at the heart of the national economic recovery plan.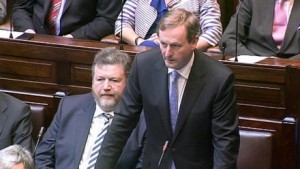 "The Programme commits to developing an Irish seafood strategy to develop Ireland as a European hub for seafood processing, and to grow market profile and demand for Irish seafood products. Bord Iascaigh Mhara will be tasked with assisting Irish companies in adding value to products. Marine responsibilities will be merged under one Department, and the aquaculture licensing process will be streamlined. These measures will substantially reduce bureaucracy in marine sector.
"The new Government will seek agreement on visitor visas with the UK, which will offer tourists the opportunity to visit the UK and Ireland with one visa at a reasonable cost. This will be of major significance to Donegal because it will encourage tourists visiting Northern Ireland to visit our county. Nationally, it will tap into the tourism market for significant events such as the forthcoming London 2012 Olympics. The worrying drop in the number of tourists visiting Donegal must be addressed, and I am pleased that the new Government will abolish the €3 travel tax subject to a deal being agreed with Ryanair and Aer Lingus to re-open closed routes and bring more tourists into Ireland.
"As a re-elected TD for Donegal North-East I am committed to driving the jobs agenda by acting as a link between the new Government and every sector of the local economy.
"The Programme for Government sets out a low-tax, anti-red tape agenda for the next five years. I am confident that a coalition Government led by Fine Gael can begin rebuilding Ireland."
MORE POSTS FROM DUBLIN ON THE OTHER POLITICAL PARTIES WILL APPEAR THROUGHOUT THE DAY