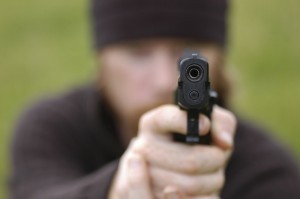 DETECTIVES are investigating the possibility that the evil loyalist gang behind a double murder in Co Armagh may have stalked their victims in Letterkenny.
Well-known crime figure Hugh McGeough (56) and his wife Jacqueline (44) were gunned down at their house in Craigavon at about 11am on Monday.
They had spent the previous weekend on a break at a well-known Letterkenny hotel. It's thought detectives have asked Gardai to check to see if the killers may have visited there over the weekend.
Their son Martin discovered their bodies at teatime on Monday. Police revealed telephone calls to the home were not answered after 11am.
It was clear McGeough, a known major drug dealer, felt under threat as his home was fitted with security lights and cameras, as well as bulletproof glass and reinforced doors.
The home is only a few hundred yards from a PSNI station. The strengthened glass and doors may have dampened the sound of the shots being fired, or else a silencer may have been used.
Police said yesterday they did not yet have a motivation for the murders, although there is speculation that the killings may follow on from a drug-linked gang feud. There has been at least one other serious threat to McGeough's life from rival drug dealers in the Craigavon area.
In 2004, McGeough was sentenced to nine years in prison in connection with the killing of 19-year-old Peter McNally, also in Craigavon, in 2001.
Det Chief Insp Richard Harkness said the McGeoughs spent the weekend staying at a hotel in Letterkenny returning on Sunday afternoon.
They were visited late on Sunday evening and were "alive and well" up until 11am on Monday, said Chief Insp Harkness.
"It is my belief that they were murdered at around 11am. I have reason to believe they may have known the person or persons who have murdered them," he added.
"What we need are facts and assistance from the local community. Someone's past is no justification for this kind of execution."
ends