A SENIOR Fine Gael activist in Co Donegal has contacted donegaldaily.com to express their dismay and concern at the lack of representation for the county at Cabinet level.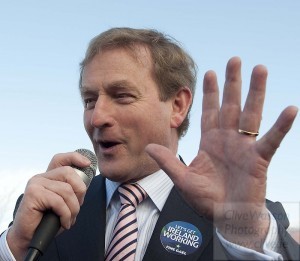 The figure, who is still active in politics, said they are really angry that not only Donegal but the entire northern half of the country has been snubbed by new Taoiseach Enda Kenny.
The man, who asked not to be named, said the lack of physical presence of a Donegal person at senior level is very bad news for the region.
"You can almost draw a line north of Lusk and there is very little representation at cabinet level.
"It doesn't matter what they say, this is going to be very bad news for the entire northern half of the country.
"As for Donegal – who is going to be our voice in Leinster House when we need one more than ever?" he asked.
The man said he did not accept the new Government's claim that it is not a board built on geography but on experience.
"That all sounds very well but I simply do not think it will work when we have a major problem in Donegal, Sligo, Roscommon or Cavan.
"We already have people who are being forced to spend weeks in Galway or Dublin just because they need ten minutes a day treatment for cancer because there is not such service in the North West. Don't tell me geography doesn't matter.  
"The American model means that there is representation from every region at the top table but we simply will not have that.
"I am a Fine Gael supporter and I genuinely believe the party can lead Ireland out of the mess we have found ourselves in.
"But I have not been impressed by the lack of vision and common sense shown by Enda Kenny that you need a local solution to a local problem," he said.
Ends