A well-known Letterkenny man has swapped the stage for the microphone and has been named Young Journalist of the Year.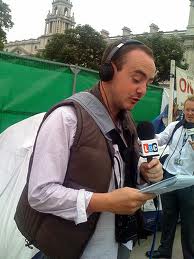 Declan Harvey of Hawthorn Heights was well-known for his acting ability and even had a part on The Bill.
But Declan, son of Pat and Eilish Harvey, decided to give journalism a go and has just scooped the main award at the Independent Radio News Awards in London.
Declan works at the London Biggest Conversation (LBC) station and was presented with his award by SKY presenter Charlotte Hawkins.
Declan, who started his radio career answering the phones and filling in on Highland Radio, said he was delighted at getting his award.
He has only been with the station for 12 months but says he has done things he would never have dreamt of doing.
Among his many radio pieces included a trip in a Chinook helicopter with the RAF as well as interviewing countless celebrities including Eastenders star Barbara Windsor.
Declan is the youngest in his family but also has a very well-known singing brother Karol.
Ends