A total of almost 800 people attended talks and seminars given as part of Donegal Business Week 2011 which finished last night.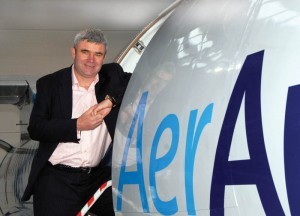 The hugely successful week, organised by the Donegal Enterprise Board, finished with a salute to the future and a talk about maximising online sales.
The talk was given by former LYIT graduate Claire Walsh who is now Online Sales Manager for Ireland and the UK with Google.
Claire's polished presentation was the last in a series of such talks given by the likes of RTE Dragon's Den star and businessman Bobby Kerr, Mary Ann O'Brien from Lily O'Brien's Chocolates and the irrepressible Aer Arann boss Padraig O'Ceidigh.
The talks focused on a number of different business models and approaches including straight lectures as well as workshops.
The seminars took place at a variety of venues across the county including the Radisson Hotel in Letterkenny, Jackson's Hotel in Ballybofey at the CoLab at the LYIT.
Michael Tunney, chairman of the Donegal Enterprise Board said he was delighted by how the business week had gone and by the standard of those taking part.
"Getting 800 people to attend talks is no small task and it shows the appetite is there within businesses in Donegal.
"It is tough times all 'round but there are green shoots there and they were very evident throughout our Business Week.
"It has been a huge success and it would not have been possible without the generosity of all those who made took part including the members of the local business community who turned out in such great numbers," he said.
Ends