PERHAPS we should have listened to the postman afterall.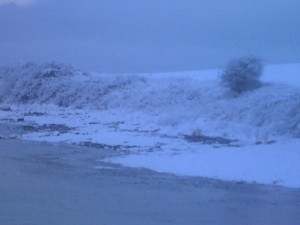 We all thought amateur weatherman Michael Gallagher had slipped on ice and banged his head when he predicted a white St.Patrick's Day.
But after the county woke to a blanket of white this morning, we might just have to admit the Glenfin postie has delivered once again!
Heavy sleet and snow in many parts threw Donegal back into cold wintry conditions after we experienced a couple of weeks of fine spring weather.
But with temperatures set to plunge over the weekend and into next week, forecasters say we could experience even more snow before it's all over.
Almost all roads are passable despite the snowfalls which are not nearly as heavy as the falls of December and January.
However with temperatures not expected to rise much above freezing in the next couple of days, the sleet and snow may stay on the ground.
The snow is particularly heavy on the hills and Donegal County Council have advised people to take extra care when driving.
So who got it right?
Vote now……BBC/SKY/RTE/MICHAEL GALLAGHER?
Send your votes to info@donegaldaily.com!