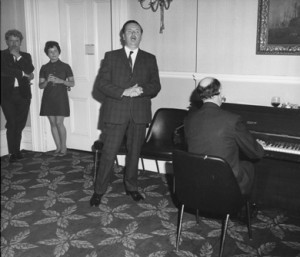 THE Irish language group Gael Linn has released a CD recording of the brilliant voice of famous Annagry native Pádraig MacNiocaill.
Pádraig, who later settled in Letterkenny, was a regular singer at Masses in St Eunan's Cathedral.
In 1970 Gael Linn issued an EP record of Irish songs by the great tenor and the new CD "Mo Churachín" features some of these songs.
The CD also features songs recorded by the artist on Raidio na Gaeltachta in 1975.
The songs which feature are "Fainne Geal an Lae," "Ó Donaill Abú," "Eibhlin a rún," "Bheir Mí Ó," "Trasna na dTonnta," "Triall ar Inis Thiar," "Mo Churachín."
Some of the songs feature Scottish airs.
The title song "Mo Churachín" is a most unusual and captivating version of "Óro mo Bháidín."
As Pádraig was originally from the Gaeltacht the CD also features wonderful versions of "Maidin Dé Mairt" "Cumha an Fhile and "Thios i lar a' Ghleanna."
Gael Linn says Pádraig's fine tenor voice is given pride of place in these recordings
and the keyboard accompaniment is subtle througout.
One of the musicians is the legendary Derry musician James Mac Cafferty, a mentor
of the great singer.
The tenor, who passed away in 2007, is also accompanied by Josef Locke and Leo Brennan, father to the great Clannad family.
The CD was launched at the Arena 7 family entertainment centre in Letterkenny last Thursday.
For more go to www.gael-linn.ie