A young Newtowncunningham man caught up in the Japanese earthquake has been warned not to travel to the centre of the quake to help out.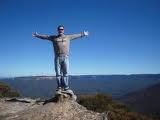 Brave Malachy Shea tried to travel from his home in Osaka to Tokyo but was turned back by soldiers in the city.
The 28 year old, who only arrived in Japan two weeks ago because he could not find work in Donegal, is due to start work in two weeks time.
But Malachy and girlfriend Yuriko told donegaldaily.com that they only wanted to help after seeing the devastation caused by the earthquake and subsequent tsunami.
However when they arrived at the city office in Osaka they were told only rescue workers and the army were being shipped three hours north to Tokyo.
When they asked what they could do, they were told the army was looking for food and blankets to bring with them.
So Malachy and Yuriko set about travelling around the city gathering as many blankets and as much food as possible and left it at the city office for transportation.   
"It's horrible just watching this happen and not being able to do anything. We could not just sit by when people are in such a state.
"What we did was only a very small thing but we had to try and do something. We would have liked to go north to Tokyo and help out directly," he said.
Malachy, the son of Patricia and Dr.Eamonn Shea, said he and Yuriko will try again to travel to Tokyo in the coming days.
Malachy said he fears there is even more devastation on the way.
"It looks far worse today than yesterday. There are 1400 hundred people missing. They are expecting more earthquakes today, not as big though and still on Tsunami alert for the east coast of Japan.
"It's hard to watch all the horrible things happening on TV but it's hard not to watch it at the same time because you want to know what's happening," he said.
© Copyright donegaldaily.com