DONEGAL'S seven richest people are now worth a staggering €764 million.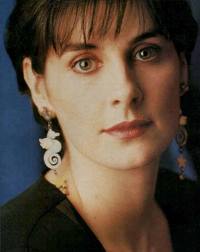 The latest records on Ireland's filthy rich and famous show that Donegal is well-represented among the movers and shakers around the planet.
And the good news – for them – is that they are getting richer with all but two of the seven increasing their wealth in the past year.
The county's richest man is undoubtedly the hard-working, down-to-earth businessman Hugh Green whose wealth is a wallet-bursting €240 million.
Next in line is the former Formula One racing tycoon Paddy McNally who comes in a second with a personal fortune of €205 million.
And all those days in her dad Leo Brennan's bar have obviously paid off in spades for Enya who is now worth a cool €110 million.
There is obviously still plenty of money in fish with the McHugh family from Killybegs still worth an estimated €76 million squid!
And who would have thought that a group of Irish dancing doing their thing during an interval during the Eurovision would propel Moya Doherty and partner John McColgan on to a €68 million fortune?   
Sir Gerry Robinson, born in Dunfanaghy and now living in Raphoe, can still afford a few pints at his own private railway bar at his home with a fortune of €42 million.
Financier Sean Ewing may not be a household name but having moved from hedge funds, he now owns a yacht-painting firm and has a nice little nest-egg of €23 million.
THE MAGNIFICENT SEVEN
Hugh Green is so rich that he doesn't care who knows about it. Last year the Sunday Independent valued him at just €80 million so he called them up and told them they had their figures wrong! He owns more than 3,000 acres of land near Auckland in New Zealand and they just aren't making land anymore. Green is known as a very decent and ordinary man and comes home to potter about Donegal every summer.
Paddy McNally €205 million
He was once estimated to be worth more than €400 million at the height of the F1 boom when his company controlled all the trackside advertising. McNally famously dated Lady Sarah Ferguson and now lives in Switzerland.
Enya €110 million
She has probably sold more records than EMI, SONY and every other record company you can think of or 75 million to be exact! She lives in a castle in Dublin overlooking the bay and is worth €110 million. Where did it all go right for the girl with the unique voice from West Donegal?
The McHugh Family €76 million
The death of their father Kevin in 2006 meant the wealth of the fishing magnate passed on to his family. The family sold its €50 million super trawler Atlantic Dawn but kept hold of their fishing quotas. Son Kevin McHugh is MD of the Atlantic Dawn Group with another super trawler the Veronica making the cash.
With 20 million people paying good money to see Riverdance, you can begin to wonder why Moya Doherty is worth a pretty penny. Doherty and partner John McColgan also own a huge property portfolio as well as a chunk of Today FM. Just don't mention The Pirate Queen which lost them an estimated €10 million.
Sir Gerry Robinson €42 million
Opening up his beautiful Raphoe mansion to the public for charity each year has been a masterstroke in keeping Sir Gerry grounded. The former chairman of Granada, 62, also made a cool €18 million when he sold his Compass group. His fortune is down by €4 million but then it costs a few quid to run that little steam train around his massive estate.
Sean Ewing
Ewing now lives in Majorca after cashing in his hedge fund business Absolute Capital Management and taking a 60% stake in yacht-painting business Pinmar. Chances are he's not painting the boats himself.
Ends