A young man died after the car in which he was a passenger flipped over and did three somersaults after being involved in a high-speed chase with Gardai.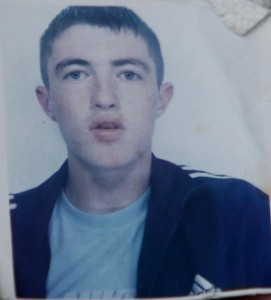 Paul McMonagle, 22, was the front seat passenger in a car being driven by his father Paul Snr through the village of Muff in the early hours of September 5th, 2008.
Gardai were parked at a local petrol station around 1am when they noticed a white Vauxhall Vectra car was driving very fast and decided to pursue it.
As they followed the car it picked up speed and a chase ensued.
The car slowed down at one stage and a man, Sean McMonagle, ran from the car and was pursued by another unmarked patrol car who had joined the chase.
Garda Paul Forrester revealed how he continued to follow Paul McMonagle Snr and Jnr and reached speeds of up to 150 kph but always stayed 150 yards behind them for safety.
After doing a u-turn the car eventually clipped a kerb, hit an 18 inch wall and then somersaulted three times before landing on its roof.
Garda Forrester told an inquest at Letterkenny Coroner's Court "The rear of car began to fishtail and clipped kerb and lost control. It then did skid and was totally out of control. The passenger side struck a stone wall and there an unbelievable impact and somersaulted in the air at least two or three times and the landed on roof," he said.
Garda Forrester also revealed there had been a lot of people in the area a few minutes earlier who were returning from a 21st birthday party nearby.
He said he called the emergency services and an ambulance arrived from Letterkenny while two fire brigades arrived from Derry.
Paramedic Gary Gardener revealed how he arrived on the scene and both men were trapped in the car but were able to identify themselves.
He revealed that Paul McMonagle Jnr, the eldest of a family of five boys, seemed fine until they reached half-way through their 25 minute journey from Muff to Letterkenny when he began to deteriorate rapidly.
After arriving at Letterkenny General Hospital Mr McMonagle of 32 Manor Wood, Knightsbridge, Derry, went into cardiac arrest and was pronounced dead at 2.58am.
State Pathologist Marie Cassidy said she carried out a post mortem on the dead man and revealed how he had a number of fractures as well as bruising to his chest and breast which was most likely from a seatbelt.
She said it is likely that the victim died as a result of a tear to the aorta which happened when his body was flung forward during the impact of the crash.
The victim's mother Pauline McMonagle asked Gardai and the emergency services if her son could not have been taken across the border to Altnagelvin Hospital in Derry which was just five minutes away.
"Why? It was five minutes to Derry hospital and his family could have been with him when he died" se said.
However paramedic Gary Gardener said it was policy that patients from the south should not be brought across the border unless they were in a critical condition and at the time Mr.McMonagle was not in a serious condition.
The jury returned a unanimous verdict in accordance with the direction of Coroner John Cannon that the victim died as a result of a road traffic accident with death due to haemorrhage and shock due to the laceration of the aorta.
"This is an awfully sad case and a sad event for all concerned. We are left with the death of a young man in the prime of his life and the future is suddenly brought to an end," said the Coroner.
Paul McGonagle Snr was sentenced to 12 months in jail and banned from driving for ten years after pleading guilty to dangerous driving causing the death of his son when he appeared at Letterkenny Circuit Court last April.
Ends