A Donegal family have decided to put their private lives on show in a quest to find happiness again.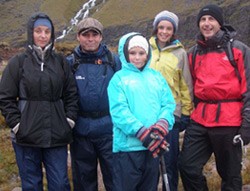 Michael and Natalie Cannon and their two daughters were at rock bottom two years again when they split up.
But now they have joined two other families facing breakdown as they appear on RTE's Families In The Wild.
The programme, which is presented by psychologist David Coleman, is a warts and all look at difficult family life in modern Ireland.
Each of three families, including the Cannons, are taken out of their natural environment to the wilds of Kerry.
 Here each family member has the opportunity to get a fresh perspective on how they get on with each other and with David's help they can begin to understand each other's issues and needs as well as begin to communicate in a more positive way.
Over the course of the week, the family participates in outdoor activities that challenge them to work together as a team, communicate effectively and build trust and reliance upon each other.
After a week of David's help as well as an action packed week of activities, it is his hope that the families will return home with new found communication skills which will help them to get on better on a daily basis and help improve their family life.
Once each family returns home from Kerry, David continues with his therapeutic work as there will be bumps along the way but he will strive to keep them on a steady path and to support their efforts in building a better family life for each other.
Ends