Building giant SISK is expected to take over the completion of the new €22 million development of Letterkenny General Hospital's new wing, donegaldaily.com has learned.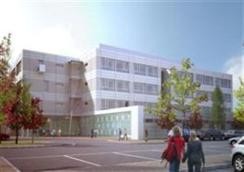 While we could not get official confirmation of the move, we understand a deal is close to being done on the project.
However the move does not mean those owed money by the collapse of former builder McNamara Construction will get paid.
More than 50 workers were turned away from the Letterkenny Hospital site last November when McNamara went into liquidation with debts of more than €1.5 billion.
The contractors are owed sums for work done of between €4,000 and €220,000.
Security guards were placed at the gates of the site but some workers did manage to get in to access and retrieve their tools.
The majority work on the 6,600 sq metre extension, which consists of a three floor medical unit and a new Accident and Emergency Unit, is already complete.
It is hoped that if a new company does move in then it will be a matter of weeks before the unit can be officially opened.
Deputy Joe McHugh has previously sought an urgent meeting with the new Minister for Health Dr James Reilly in relation to the matter of workers being owed money.
He said he was aware that the HSE have €1.3 million in its purse and wants some of the revenue drawn down to pay builders for work done on the Letterkenny project
He said some of the outstanding cash could be drawn down and then a plan drawn up so the contractors could receive all of their cash in a set timeframe.
Some of the builders owed money from the Letterkenny project have since gone into liquidation.
Ends