Once again the Streets of Letterkenny were packed with spectators for the annual St.Patrick's Day Parade.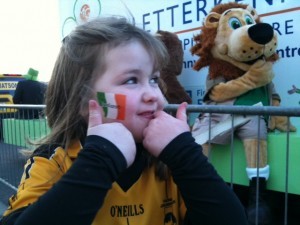 The weather smiled on everyone who turned out to make this one for the best ever. 
With over 40 entries and 5 marching bands the crowd made up of families from across the North West were entertained for nearly two hours.
Classic cars, dogs, horses and even circus entertainers joined the parade as it wound its way through from Port Road, through the Main Street to Old Town presenting a stream of colour, excitement and fun. 
Crowds gathered well before the parade got underway and they were treated to a fantastic display of Irish Dancing from Ferry's School of Irish Dancing.  The young dancers in their blue costumes danced various routines showing off their talent and expertise.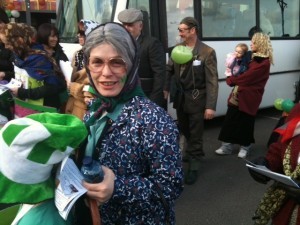 The bands on the day always add to the experience and this year bands included Letterkenny District & Pipe Band, Thiepval Memorial Band, Fanad Accordian Band, Letterkenny Community Youth Band and Rosnashane Accordian Band.
President of Letterkenny Chamber, Patrick McGinley said he was delighted with how the parade went off.
"It is fantastic to see how much work goes into the entries for our annual parade. St.Patrick's Day is an important day for any Irish town and we are delighted to be able to organise a wonderful parade each year.
" We pay tribute to all who support the parade, the businesses who give generously to fund it, the staff of the Chamber and my fellow Chamber council members who steward, collect money and work hard to make the parade a success. 
"We have had a great day of celebration and fun and I was delighted to see such a range of organisations and businesses involved as well as such a good turnout of spectators," he said.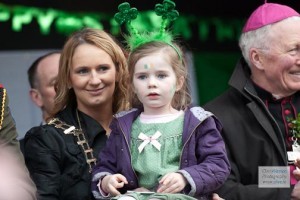 The parade followed the normal route through Letterkenny to cheers from the spectators.  As well as the bands, tractors and horses, there were floats and entries from local businesses such as last year's winner Letterkenny Shopping Centre, Donegal Creameries, BC Embroidery, Ontraz among others. Entries also from community groups such as Letterkenny CDP, Killylastin Youth Development Service, Port na Failte and sporting clubs such as St.Eunan's GAA and  Letterkenny Rugby Club. 
 With a new prize in mind to Commemorate Letterkenny 400 sponsored by Letterkenny Town Council, the judges had a tough job and after much deliberation they announced the results to the waiting crowd. 
The Danny Doherty Memorial Shield for the best float was won by the Encore Performing Arts Academy.  The overall parade winner was the fantastic float entered by Lurgybrack Farm. The Letterkenny 400 prize went to Letterkenny Gaels GAA Club.
All entries had spent many hours of work into designing imaginative and entertaining floats and practicing routines and as usual hundred's of local children participated in floats, walking entries, bands and dancing troupes. 
All the participants were delighted by the reception on what turned out to be a hugely successful St.Patrick's Day Parade.
The Parade was once again organised by Letterkenny Chamber of Commerce only made possible by donations from the business community and the general public who gave generously on the day.  The parade also can only happen with support of An Garda Síochána, Civil Defence and the Town Council. 
 Ends