SMILING Stanley Grier was just one click of RTE's Winning Streak wheel away from scooping a whopping €500,000.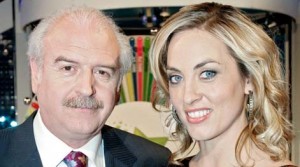 But the Ramelton man still had plenty to smile about after winning €100,700 and a holiday to Turkey on the National Lottery show.
Happy-go-lucky Stanley from Aughnish even said "I had a feeling I would be the last man standing" as he got ready to spin the wheel.
Stanley, who was surrounded by family and friends, came agonisingly close to winning the magic half a million euro top prize but just fell one click of the wheel short.
Instead he scooped €75,000 to add to the €25,700 he had already won during the show as well as a €5,000 holiday to Turkey.
It will go a long way towards finishing the garage that concerned Stanley so much!
County Donegal's amazing luck on the Saturday night show continued as Inch Island woman Kathleen Robb's name was also drawn out to appear on the show next week.
And last an Illies woman scooped €55k and a Kenyan safari holiday – after she too spun the big wheel!
Mother of two Angela Devlin was picked for the show after her husband's mum Annie Devlin bought her the lucky scratchcard at Buncrana SuperValu.
The housewife won an astonishing €35,000 on the Big wheel, along with €20k from the previous rounds and a 5-star safari holiday in Kenya worth €5k
Angela, from the townland of Ballymagan, said: "I'm just over the moon. It was a lot more than I expected. We are just so happy."
Mum Angela is keeping her feet on the ground however, promising to pay off a few bills.
Sheep farmer husband Seamus and their two teenage sons were in the audience cheering on Angela.
The mum has made one promise – to her mother in law who bought the ticket.
"Annie will have to get a cut. As for the rest I'll pay off a few bills and do some improvements around the house," she said.
Ends