Burt singer Brian Sheerin failed to fulfill his dreams despite making it to the final of RTE's All Ireland Talent Show.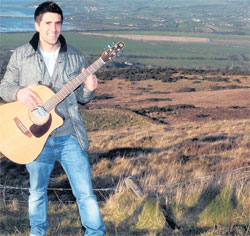 The proud Donegal man put in a rousing rendition of Van Morrison's 'Tupelo Honey' but it wasn't enough to take him through to the last three contestants left in the final.
Not even Daniel and Majella O'Donnell, who were in the audience, could spur Brian on to winning the €50,000 prize.
Brian said "I gave it my best shot but it just wasn't to be. I'm just so delighted to have got this far.
"Music is something I've always wanted to do. so win or lose I'm going after a music career."
GAA-mad Brian was surrounded by family and friends who looked very disappointed.
But they had no reason to be as Brian did Donegal and the North so proud.  
In the end the winner was young singing sensation Daniel Flood from Wexford who was voted the winner by the public.
The hurlung-mad youngster just pipped out favourites Mad For Road and singer Don Stiffe to win the show. 
Ends