The owner of a restaurant in Bundoran has been given until April 26th to paint over a controversial mural or face court action.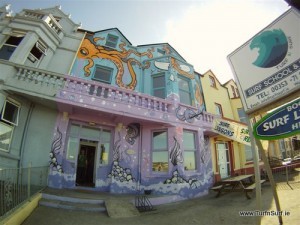 The Surf and Turf Lodge at Bayview has been a huge talking point since owner Killian O'Kelly painted a huge mural featuring an octopus on its walls.
But Donegal County Council have now deemed the mural illegal and have given him until April 26th to paint over it or face prosecution.
Killian said he has received hundreds of letters of support for the mural but his hands are tied.
"We have received huge support but there is nothing we can do if the council deem that it is against the law," he said.
Artist Mick Minogue said it will break his heart to paint over it as many people love it
A spokesman for Donegal County Council said "The mural at Bayview Terrace does not have the benefit of planning permission and is on a building that is on the Bundoran Town Council Record of Protective Structures and within an Architectural Conservation area."
What do you think the owners should do? Post your comment online now.
Ends