DOZENS of fans of RTE All Ireland Talent Show finalist Brian Sheerin have claimed they could not get through to the phonelines to vote for the Burt singer.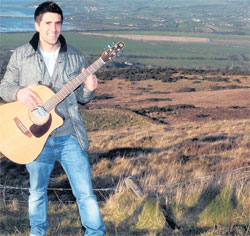 The singer failed to make it to the final three of Sunday night's contest despite being tipped as a possible favourite to win the show outright.
However there have been complaints that many could not get through to the voting number while others say their text messages went unregistered after the voting lines had closed.
Brian, who performed Van Morrison's 'Tupelo Honey', was beaten for the €50,000 prize by Wexford singer Daniel Furlong.
However one fan who voted for Brian a number of times said they had not been billed for their texts when they checked with their phone network provider.
"I have spoken to a number of people about it and a number of them had the same problem. Others told me how they couldn't get through at all and constantly got an engaged tone.
"I was gutted for Brian as he was by far the best singer in the final. I thought I had voted for him ten times but none of the votes were registered.
"I really think something was wrong and I just hope it didn't cost Brian a place in the final and possibly a chance to win the competition," said the young woman from Letterkenny.
Brave Brian wasn't blaming anybody after not reaching the final and is still intent on carving out a career in the music business.
Brian is a student and also works part-time in a garden centre but he says music is his first love.
"I am just so delighted that I got as far as I did. Win or lose I had made up my mind that I want to make a career in music now," he said.
A spokesperson for RTE said there were some technical issues with the voting phonelines but that all contestants encountered the same problems.
"You are going to have some issues when you are trying to deal with such a huge volume of calls and texts.
"But all contestants have encountered the same problems so we do not think that anybody was put at an unfair disadvantage," he said.
Ends