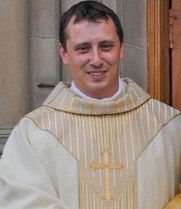 WELL-KNOWN Letterkenny priest Fr.Damian McGroarty is hoping he can punch above his weight with his latest vocation.
The Fanad priest, who is based at St.Eunan's Cathedral in the Leck and Conwal parish, is one of 24 volunteers taking part in a Big Fight Night in the Clanree Hotel on April 2nd next.
The aim of the charity night is to raise funds for the renovation of St.Eunan's Cathedral which will cost an estimated €700,000 when completed.
Fr.Damian said he was looking forward to getting into the ring and admits he is all the better for his training regime which has seen him cut out junk food and train regularly.
"It was Fr.Eamonn Kelly who kind of suggested my name but I thought it was a good idea.
"I suppose some people might raise an eyebrow at a priest getting involved in a boxing match but it's only a bit of fun and it's good that someone form the church is right at the centre of the fundraising," he said.
Having been involved in athletics when he was younger, Fr.Damian is no stranger to getting fit but he says boxing is a completely different discipline.
"I suppose you can push yourself as hard as you like – this is a completely different discipline, even things like how you move your feet," said Fr McGroarty.
Fr.McGroarty admits that while he is not nervous, the same can't be said for his mum.
MC for what should be a great evening's entertainment for a very worthy cause is TV3 personality Noel Cunningham.
Ends
Tags: