THE Donegal GAA team  have been hit with a new booze ban – brought in by themselves.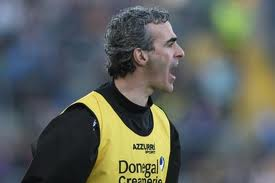 There will be no Guinness for the boys who play for McGuinness!
The players even turned their nose up an offer by management to have a couple of drinks in their quest for glory.
Alleged booze binges before and after games by some players in recent years have haunted Donegal teams.
But now a self-imposed ban by the players under new manager Jim McGuinness is reaping plenty of rewards.
Proof of their new discipline came when management gave players permission to have a couple of drinks after they beat Meath two weeks ago.
However not one of the players decided to have a drink that night in a quest to continue their good form.
Donegal GAA legend and pundit Martin McHugh said he is very impressed by the new-look Donegal and of the self-imposed booze ban.
"That is a big change for Donegal," he admitted.
McHugh said he was very happy for Jim McGuinness and the backing the players have given him.
"Players are getting up early and doing weights in the morning and going to the field on their own," said McHugh, who was known to be a perfectionist when he played.
And he added "I'd say this is the best set-up Donegal have ever had. They are a very happy camp," he said.
However the Kilcar man warned about people getting too carried away too early with the rebirth of the Donegal team.
"The most important thing for Donegal is that supporters and the press don't get carried away as has happened in the past after a few wins.
"They may not be good enough against the bigger teams yet but it is going in the right direction, and it is a two of three year plan," he said.
Ends