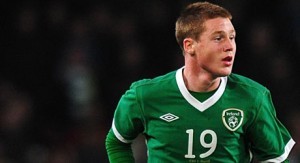 AN INCREDIBLE FOUR players lining up for Ireland against Macedonia this Saturday will have Donegal connections – and that's without injured keeper Shay Given.
Killybegs Seamus Coleman is being tipped to start the match.
And other players with Donegal connections – Ciaran Clark, of Aston Villa whose family is from Milford, and Aiden McGeady from Spartak Moscow with relatives in Gaoth Dobhair  – are tipped to start.
Another player who qualifies for the Irish team is James McCarthy, in his case through a grandfather that was born in Gaoth Dobhair.
Glasgow-born McCarthy pulled out of the Wales game as he was only returning after three months out with an ankle injury, but a rigmarole followed and it was claimed the Wigan Athletic midfielder would switch his allegiances to Scotland.
However, having spoken publicly about the debacle for the first time, the 20-year-old has set the record straight.
"I've had to contend with this for a few years," he said of his international future. "But it has really all stemmed from other people wanting it to happen. I am, and will remain, a Republic of Ireland player. I hope to play against Macedonia next weekend and that will put any talk of Scotland to bed once and for all.
"It reached new levels, went too far really, when I withdrew from the Ireland squad to play Wales. It was all above board. I was not long back in the Wigan team after three months out with an ankle injury and I was still taking things slowly as I didn't want to risk anything. But this became a huge story and all the talk of me playing for Scotland resurfaced.
"My phone never stopped ringing. I've never received so many text messages and listened to so many voicemails. It was mental really. I've never been so popular!
"Trapattoni flew across to England to see me and we met at a hotel. He wanted to look me in the eye and ask if I was happy and committed to Ireland. I told him I was happy and wanted to play for him. It was a good meeting. We were both satisfied at the end of it. I appreciate the interest from Scotland but don't want to go back on my word."
McCarthy has taken some stick in the Scottish media – with one paper slamming him.
You can take the man out of Gaoth Dobhair – but you can't take Gaoth Dobhair out of the man!
See separate interview with Seamus Coleman on SPORT.