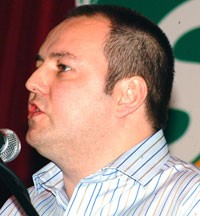 DONEGAL NORTH EAST TD Padraig MacLochlainn is in Brussels today ahead of today's EU summit – which has now decided NOT to discuss the interest rates being charged on Ireland's loans.
Speaking to donegaldaily.com from Brussles, the Sinn Fein Foreign Affairs spokesman said the real issue is the affordability of the loan and the sustainability of the debt.
He told us: "We all know that the Government will secure some sort of reduction on the interest rate and that we will retain our corporation tax rate.
"While these are important issues the fact is that they are side issues. The real issue that should be discussed at this EU Summit meeting is Ireland's ability to afford this loan and our ability to sustain the debt.
"All parties in the Dáil have come round to the Sinn Féin's view that the debt is unsustainable and that there will have to be some sort of burden sharing.
"However, the Government seems content to kick the can down the road to 2013.  This is not a realistic option for Ireland.  We need action now."
He said his party would have gone to today's meeting armed with a commitment to put the bailout to the Irish people in a referendum.  Such a commitment would significantly strengthen the Government's hand in negotiations taking place today, he said.
Deputy Doherty added: "It is also the democratic way to proceed.  Sinn Féin believes that if the people are been asked to pay then they should have their say."
Ireland's position on loan repayments may change as the crisis continues to spread in the EU.
Last night Portugal's Prime Minister resigned after failing to agree auterity measures.