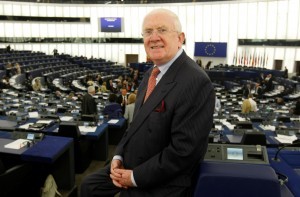 The Government must dig its heels in to protect our 'valuable corporate tax rate', Pat the Cope Gallagher insisted today.
The MEP has urged An Taoiseach Enda Kenny to retain the strong stance held by the previous Government on the issue of CCCTB.
Speaking from Brussels, Mr Gallagher commented: "The concessions sought on tax are more to do with the domestic political agenda in France and Germany than the stability of the euro.
"Fianna Fáil in Government strongly opposed any changes to our corporate tax base. Over many years, our opposition to CCCTB has been firm and unwavering.
"It is now up to the new Government to hold that strong position to protect our economic interests. There is no such thing as a compromise here. Giving in a little bit now will ultimately lead to a complete undermining of our ability to retain and attract foreign direct investment.
"It is widely reported that some of the larger EU countries are seeking tax concessions from Ireland in return for an interest rate reduction."
Mr Gallagher added: "While I support any effort by the Government to seek a cut in interest rates, this issue has now been taken off the agenda at this week's summit.
"It seems clear that Europe is frantically attempting to dampen expectations of a possible cut. All the while, Ireland remains under pressure regarding CCCCTB, for what I believe has more to do with domestic political concerns in France and Germany, than the financial stability of the Euro."