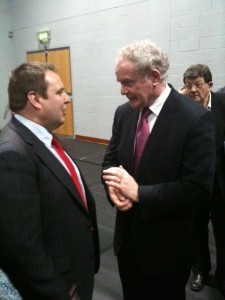 THE North's Deputy First Minister Martin McGuinness today vowed to reverse 'within weeks' the decision to postpone the construction of a radiotherapy unit at Altnagevin – describing the current decision as 'an attack on the people of Derry and Donegal.' 
He said he could "guarantee" to reverse the move after the elections in the North in May.
And the DUP's Jim Wells, who chairs the assembly's health committee, said his party would also reverse the move if it took the health portfolio.
Six County Health Minister Michael McGimpsey said funding was insufficient. 
Mr McGuinness said the delay, announced in the assembly on Wednesday, was "shameful, highly political and sectarian".
"This is not about money," he said.
"This is about attacking the people of Derry and Donegal. There is an election in a couple of week and we will reverse this. 
"This is the best possible project you could tackle by dint of the fact that we have a very high level agreement between our Executive and the previous Irish government which I believe will be maintained."
He said he would ensure the decision did not stand. 
"If you can be sure about anything in life you can be sure that this radiotherapy centre will be built. I will ensure and guarantee that it is built."
The DUP MLA Jim Wells, said there was no case for postponement.
"The Altnagelvin radiotherapy unit was treated specially and differently from any other project.
"The finance minister allocated the £27m and ring-fenced it to health.
"The Fine Gael-Labour government is committed to giving the money to Altnagelvin.
"In addition, the Irish government have planned to fund a third of the revenue because there will be patients coming from Sligo, Donegal, and Leitrim to the new unit.
"That means that the capital cost is effectively free to the department and a substantial part of the revenue is free."
Earlier our Health Minister Dr James Reilly, said his government was still committed to providing €19M for capital costs and also ongoing funds.
He said the unit was an "ideal solution" for the radiotherapy needs of people from across the north-west of Ireland.
The Ulster Unionist Party have insisted that Mr McGimpsey's decision was taken on grounds of finance, not sectarianism.
ends