A businessman had a miraculous escape when a tractor rolled over his car.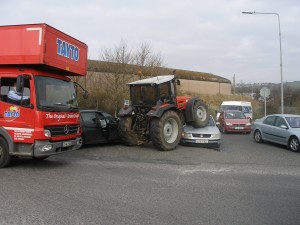 Estate agent Manus McGroddy thought his number was up when he saw a tractor coming towards him as he went about his business in Letterkenny this morning.
Manus managed to crawl out of the passenger side of his Volkwagen Passat car without as much as a scratch.
Last night he said he revealed how he saw his life flash before him just seconds before the collision which happened around 10am at the Link Road at Ballyraine.
"It was like playing in goals and watching the ball coming for your face but you just couldn't get out of the way.
"I saw the tractor coming for me and closed my eyes because I could do nothing. It all happened in seconds. It was one of those freak accidents.
"I thought I was a gonner but when I opened my eyes the tractor was on top of me.
"I managed to scramble out of the passenger door and there wasn't a scratch on me. It was a miracle that I wasn't killed or seriously hurt," he said.
The Gardai arrived on the scene and carried out a full investigation into the accident which involved two cars and the tractor.
Manus said that he was planning to do the lotto because he felt so lucky after walking away from the crash.
"That was the first thing the Gardai said to me when they arrived – I should do the lotto. I took a picture after I got out of the car.
"I looked at it a half an hour later and my legs went weak. I still don't know how I got out of it. Hopefully I'll win the lotto now," he laughed.
Ends