A County Donegal man has been made the third most powerful man in America.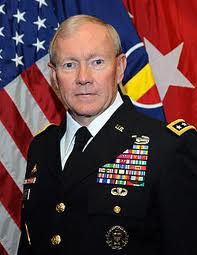 Martin E Dempsey was inaugurated as the Chief of Staff of the American Army at a ceremony at the White House.
General Dempsey is the grandson of John Og Devenney, who left Ranafast in West Donegal for America in 1926.
Last night his relations across West Donegal were toasting his success.
He will now oversee 600,000 soldiers in 135 countries around the world and is now third in command behind President Barack Obama and Defence Secretary Robert Gates.
Having graduated from Westpoint Military Academy in 1974, Dempsey rose quickly through the ranks and has seen action in Operation Desert Storm in Iraq as well as serving in the Philippines and Germany.
General Dempsey's first cousin Donnchadh Devenney revealed yesterday how the decorated Chief of Staff is very proud of his Irish roots.
"He is very proud of his roots and so are the rest of his family. His sister Susan is due home here in Donegal in the summer months.
"He keeps in touch about all that is happening in Ireland and knows and can be heard singing plenty of Irish songs. It's good to see he has never forgotten where he comes from," said Donnchadh from his own home in Ranafast.
He also revealed how the Devenney family homestead from where Martin's grandfather emigrated 85 years ago is still lived in today.
Donnchadh added "It's great to see someone from Ireland having done so well for themselves and still to remember where they came from.
 "His grandfather left the old train station in Crolly with four of his friends to find a better life in America and they were played off by the local Ranafast band which they were members of.
"It's great to see that something good came of it and that an Irishman and the rest of his family have done so well for themselves," he said.
Ends