A Letterkenny businessman has invested almost €500,000 creating a unique tourist attraction which he hopes will 'get wings' soon!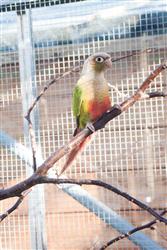 Clive Alcorn, part of the well-known Donegal family who run a florist and garden centre, is to launch his new venture 'Tropical World' next week.
The new venture, which will be on an adjoining site to the old garden centre, will house a butterfly farm, as well as an aviary for parrots and owls and even a raccoon!
Clive got the idea for the new 1,000sq metre tourist attraction when he visited a similar butterfly farm in Statford-Upon-Avon in England six years ago.
"When I walked in I was amazed and I knew it was what I wanted to open back here in Donegal.
"So I began researching and putting things in place and now I am delighted to say that we are about to open on Monday week.
"It has been a labour of love but I am really passionate about it and I know people are going to love it," he says.

But the new centre is not just another business for Clive – he is passionate about teaching children about nature and all it has to offer.
"I have always been an animal lover and this will give me a chance to spread that love and education of plants and animals to children," he said.
To assist in that education Tropical World has a fully-equipped education centre which will cater for school trips and teach children all about what is on display.
And what a list of creatures Clive and his staff have gathered.
As well as the unique collection of butterflies, children can get to see 18 different types of reptiles as well as loveable chipmunks.
The centre is based overlooking stunning Lough Swilly and a picnic area has also been developed so people can bring their own lunches or buy food from Tropical World's own cafe.

Because of the recession Clive is conscious that money is tight and has introduced a range of family tickets and school deals for everyone who wants to see Tropical World.
"We have sat down and tried to do the best deals we can because we want people to come back time and time again.
"We want Donegal to have a new unique attraction that can also educate children about nature and all it has to offer.
"It has been six years in the making from that first moment of inspiration but I am delighted that we're just there now," he said.
Further information on this wonderful new project can be got from logging onto www.tropicalworld.ie
Ends
Tags: