Former Tanaiste Mary Coughlan cut her tax bill by almost €5,000 by claiming for tax-relief on her second home in Dublin.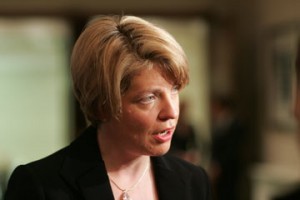 The ousted Fianna Fail politician, 45, has been named among eleven former government ministers who claimed almost €51,000 in tax breaks for keeping second homes in Dublin.
The ministers were entitled to claim tax relief on second homes in the capital, or on hotels or rented apartments, if they didn't have a second property
The perk enabled ministers to cut their tax bills by an average of €4,545.
The number of ministers and junior ministers who claimed the dual abode allowance has dropped since the controversial scheme first came to public attention in recent years
There was uproar recently when it was revealed that the former Minister from Frosses was to leave the Dail with a bumper payment of more than €225,000.
The payment includes a €103,000 combined Dail and Ministerial pension for her 25 years service as well as a once off payment of €147,000.
Ends