IT'S not often that Arena 7 boss Enda Nicholls is lost for words.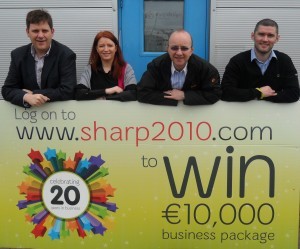 But the big Letterkenny man was left speechless after winning a €10,000 package from Sharp design to celebrate 20 years in business.
After finally managing to compose himself, Enda did string a few words together and said his prize will go a long way towards expanding his business.
"We at Arena 7 are absolutely delighted to have won this exclusive business package of offline & online marketing materials and marketing advice from the Sharp Design team.
"The prize its self is great but when it comes from a top class company like Sharp Design, it's even better.
"We appreciate the value and importance that good marketing plays in our business and now we have €10000 worth of it to avail of and all from a very professional and sharp team.
"This gives us an opportunity to freshen our approach in marketing terms and with the guidance of Hugh, Grace Ann and all at Sharp Design, we know it will be a success.
"Sharp have been a positive influence on Arena7's success in the past and we can't wait to get to work on even more successful campaigns. We at Arena7 would like to thank the Sharp Design team for this incredible prize"
Sharp Design & team would like to thank everyone of their customers who entered the draw and want everyone to stay in touch for the 21st Birthday celebrations!
Ends
Tags: