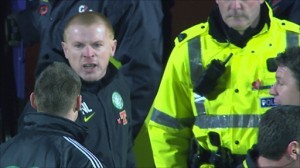 Celtic manager Neil Lennon has again been targeted with a fake nail bomb.
The weekend terror hoax was intercepted by mail workers in Glasgow. It is the third hoax in as many months.
In January, packages containing bullets addressed to Lennon and player Niall McGinn were intercepted by postal workers in Mallusk, Co Antrim.
The most recent parcel, which is understood to have contained a bottle filled with nails, was spotted by staff at Kirkintilloch delivery office close to Celtic's Lennoxtown training ground.
A police spokeswoman said: "The package was examined and the incident is being treated as a hoax."
A Royal Mail spokeswoman said: "We can confirm that a suspicious package was found at Kirkintilloch delivery office.
"The usual security procedures were followed and police were called."
Three weeks ago, mail staff were evacuated from a sorting office in Saltcoats, Aryshire, for two hours when explosives experts were called in to examine the last suspicious package sent to Lurgan-born Lennon.
The 39-year-old has had to increase his personal security in the wake of the threats and pulled out of a trip to Donegal for a friendly match with Finn Harps.
He has had a panic button installed at his home after receiving a threatening call in the middle of the night and is accompanied to club training sessions by a security guard.