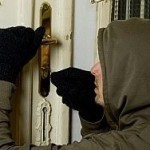 GARDAI in the Letterkenny District Division have revealed that the number of so-called 'creeper' burglaries has doubled since last year – with one every three days since the start of 2011.
There have been 30 reported incidents of thieves targetting houses whilst the owners are at home, up from 16 for the same period last year.
And there have been at least a dozen more in other parts of Donegal over the same period.
A garda spokesman explained: "There are young men targeting houses in both urban and rural areas. They are looking for anything which can raise money quickly like laptops, TVs. And they'll take car keys if they get the chance.
"As well as Letterkenny being hit we've had reports of similar incidents in Manorcunningham, Glenties, Carrigan and St Johnston. There has been a sharp rise in creeper burglaries all over the county."
Crime prevention gardai want people to be vigilant by locking doors even when they are at home.
And the thieves are also taking older cars so that they can sell them for scrap.
The spokesman revealed: "Recently we investigated an incident of car being stolen in Galdonagh, Manorcunningham and we recovered that vehicle a short time later from the premises of a scrap dealer. It has been stolen and sold for €120.
"We even found one stolen car on the back of a lorry."
He warned: "A family could be in the living room watching TV and not know there are burglars in their kitchen. People should lock their back doors."
ends