BRIS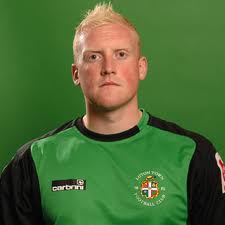 TOL ROVERS goalkeeper Conrad Logan has revealed how Packie Bonner and his dad Joe's old socks made him want to be a professional footballer.
The 6'2″ Ramelton man may only be 24 but he is on the verge of hitting the big time having spent nine years with Leicester.
Having spent a number of seaosn on loan to Bristol Rovers, many feel his time is about to come.
But like many others, a lot of the blame can be put at the feet of big Keadue man Packie for inspiring Conrad.
"I was four in 1990 and Packie saving that penalty made a big impression on me," he says. "I remember getting a poster of it and I would get my dad and my uncle to roll up socks and throw them, and nearly breaking my arm in the living-room diving after them."
Dad Joe was a free-scoring midfielder for Sligo Rovers and Finn Harps in the 1970s, but Conrad had no interest in playing outfield. "All through school, at St Mary's Ramelton, and St Eunan's Letterkenny, I was a goalie, and I also played a bit of Gaelic."
He has been acquiring some valuable experience. So far, he has experienced promotion, a Wembley final, and two relegation dog-fights, the second of which engages him at present. Most of this valuable experience has come while out on loan, and he is currently helping Bristol Rovers shore up what was the leakiest defence in League One until he arrived.
In the 10 games before Logan's arrival, Bristol had conceded 27 goals. In his first seven games, they conceded five — two of them coming when they were reduced to 10 men.
"When I got the call from Bristol at Leicester's training ground, I looked at the team and reckoned there was enough quality there to be a top-half team. I couldn't understand why they were struggling, but losing can become a habit."
Logan's loan has been extended to the end of the season with the Pirates. "It's a good challenge and hopefully we'll stay up. I knew I'd be busy, so it's a chance to impress people."
The person he most wants to impress is Leicester and former England boss Sven-Goran Eriksson.
"He's one of the nicest people I've met in football. He always has a word for me, shakes my hand, encourages me to go out and play games, and says that things will look after themselves after that. In that respect, I have one year left on my contract, so next year is the big one for me."
Finally, there's the question of following Donegal men Bonner and Given into the Irish team.
After being capped all the way to under 19, Logan was ignored at under 21 even when he was a regular in Leicester's first team.
"I seem to have slipped under the radar, but I want to play for my country and the only way is to get games and have people come and watch me," he said.
And with Shay Given now coming towards the end of his career, another Donegal man may just be about to stake his claim to that famous number one green jersey for Ireland. 
Ends