Fianna Fáil TD for Donegal North East Charlie McConalogue has used his maiden speech in the Dáil to address the issue of road safety and the need for continued efforts to reduce the number of accidents and injuries on our roads.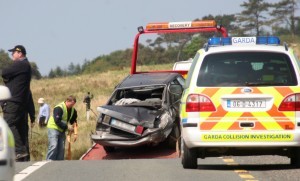 Addressing the Dáil for the first time, Deputy McConalogue explained that this is an issue of great importance to him as someone from a county that has suffered so many road tragedies.
He said his maiden speech provided him with the appropriate opportunity to discuss the issue of road safety as part of the debate on the Road Traffic Bill 2011.  
Deputy McConalogue said that Donegal had suffered more than any county in recent years from injuries and deaths on our roads and that every effort must be made to continue the campaign to reduce the number of families that suffer in this way every year.  
 The local TD paid tribute to Inishowen woman Susan Gray, the founder of the Public Against Road Carnage Group, who was present in Leinster House for the road safety debate.
  "Like many other families in my local area and nationally, Mrs Gray suffered loss due to a road traffic accident. She dealt with the issue by taking the initiative and working with others to set up the PARC road safety group to try to improve road safety.
"I commend her and PARC for their work in pushing the campaign for many of the new measures being introduced in the Road Traffic Bill 2011, including the introduction of automatic breathalyzing in the case of a road traffic accident."
  Deputy McConalogue also called for additional powers to be provided to judges to allow them to deal with repeat road traffic offenders, and crack down on a 'culture of speed' and dangerous driving in many cases.  
 The local TD outlined his proposal to the Dáil: "We should consider giving judges the power to impose on repeat offender a requirement that they may only drive cars with low powered engines – perhaps 1.0 or 1.2 litre engines – for two or three years.
"This would help address the problems arising from those who get fines or disqualifications repeating the same type of behaviour in high powered cars regardless of how often they are sanctioned," he said.
The new Minister for Transport Leo Varadkar welcomed Deputy McConalogue's proposal and indicated that he would consider this measure in developing road traffic legislation.  
In his speech, Deputy McConalogue also paid tribute to those who worked for him during the election campaign.
And he vowed to be a strong voice for the people of Donegal North East in the Dáil, pushing for progress on the issues of importance to the constituency while also working to bring about progress on the wider issues affecting the country at this very challenging time.    
ENDS