What's the size of a football field, travels at almost 28,000 km/hour and can be seen soaring 350 km above the earth? The answer is . . . the International Space Station!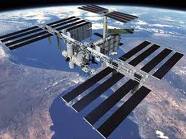 Construction of this marvel of human engineering began on the edge of space, back in 1998.
And now it's about to pass over Donegal skies. 
The International Space Station (ISS) is the culmination of a joint project by American, European, Russian, Japanese and Canadian Space Agencies. This joint project concept was primarily born out of budget constraints on the major space players.
It is now possible to see the ISS blaze across the sky every morning, twice on most occasions, up until 8th April. All you need are some clear skies!
The ISS is visible as a very bright point of light appearing approximately 10° above southern and western horizons. It will travel quickly across the seemingly stationary backdrop of stars.
The fact that it contains no flashing lights, red or otherwise, makes it easily distinguishable from aeroplanes.
It can be fun to see if the ISS passes close by to any bright stars or planets from your location, differing across Donegal. The ISS is so bright because its large surface reflects sunlight.
At the end of each pass, the space station appears to vanish from the sky as it enters the Earth's shadow, thus blocking sunlight from reflecting off it.
If the clouds part before the 8th April, why not pop outside for a few minutes to catch a glimpse of this spectacular object blazing across our skies, knowing that someone could well be looking back in your direction from the edge of space!
For the best times to see the ISS log onto www.donegalskies.com
Ends