Donegal's two Sinn Féin TD's Pearse Doherty and Pádraig MacLochlainn today launched a postcard campaign against the Universal Social Charge.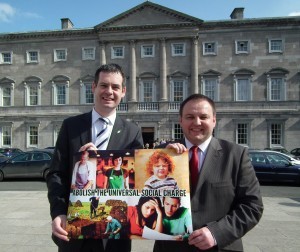 Speaking from the launch at Leinster House the Donegal Sinn Féin TD's encouraged as many people as possible to use the postcard to make their voices heard.
Deputy Doherty said "We in Sinn Féin stand firm against the Universal Social Charge. It is an unjust and unfair flat tax that penalises those on low and middle incomes and the working poor.
"It is an attack on our incomes that we just cannot afford. We don't need a review to establish that.
"The Labour Party must stand up for ordinary people by abolishing this charge.
"Our Dáil motion calls for the abolition of the Universal Social Charge to be replaced with a model of progressive taxation whereby those who have more are asked to pay more.
And Deputy MacLochlainn added that it was the next step in their campaign against this unfair tax.
"Sinn Féin representatives and activists from across the state will be on the streets, on the doors and in the shopping centres asking people to support our campaign against the Universal Social Charge.
"I am asking as many people as possible to come out, sign our postcard and make your voices heard."
Ends