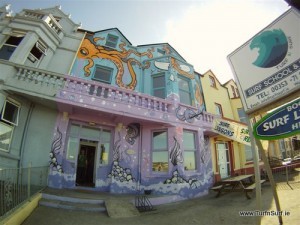 THE surf school mural at the centre of a controversy in Bundoran has been axed – after a council order!
The move will disappoint many people who saw the mural at the Surf & Turf surf school at Bayview Terrace as a breath of fresh air in the seaside town.
But others – and at least one person who complained to the town council – hated it.
However the aquatic theme on the front of the building is no more!.
The County Council had said the painting of a mural on any external elevation of a building visible from the public domain requires the benefit of planning permission.
The mural did not have the benefit of planning permission and was "on a building that is on the Bundoran Town Council Record of Protected Structures and within an Architectural Conservation Area."
The Surf and Turf Lodge at Bayview Terrace had been amusing locals and visitors alike for the past nine months, ever since owner Killian O'Kelly gave his Victorian premises a facelift by painting it with loud colours….with an octupus as the main feature!
Said Killian: "We used a professional artist and spent thousands of euro on it and we like it.
"We weren't aware of anything in the law as far as we know that says you cannot put a mural on your premises and now we have been given an enforcement notice by the council.
"The problem was that we we couldn't afford any legal fees if it goes to court."
Artist Mick Minogue said: "Everyone got a buzz out of a giant octopus on an old house. It caused no pain or discomfort. It made people smile."
What do you think? Post your comment online now.