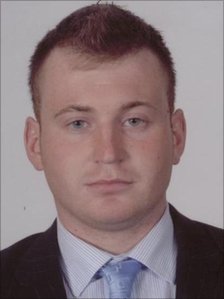 Catholic and Church of Ireland bishops in Donegal and Derry have united to condemn the murder of police officer Ronan Kerr.
The 25-year-old constable, a keen member of the GAA in his native Beragh, was killed when a booby-trapped bomb exploded beneath his car on Saturday.
The Bishop of Derry, Seamus Hegarty, and Bishop of Derry and Raphoe, Ken Good, urged people to support the PSNI.
Ken Good said the killing had brought needless devastation to constable Kerr's family.
"The cruelty and shame of those who committed this act, either in planting the device or in supplying of information, is displayed to all of the world, " he said.
He offered support to constable Kerr's family.
"We call on all people of faith to hold them in their prayers; and we ask everyone to support the PSNI in every way possible as they seek to protect the public and bring justice to the perpetrators of today's heinous crime.
"There are no words to adequately describe the inhumanity of the murder of a young PSNI officer in Omagh today."
Dr Seamus Hegarty said: "This crime, against a man who served and protected the public, is a crime against all in our society," he said.
"I call upon anyone with information regarding this brutal killing to provide that information to the police."
Meanwhile Michael Gallagher, whose son Aidan was one of 29 murdered in Omagh by the Real IRA in 1998, said Ronan Kerr 'was more of an Irishman than any of those behind the atrocity.'
ends