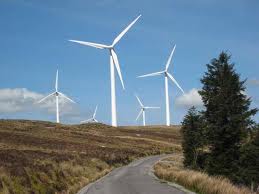 Energia is completing the final stages of construction at its new 10 megawatt (MW) windfarm in Corkermore in south Donegal.
The green electricity generated by the plant will be supplied to businesses across Ireland by competitive energy provider Energia.
The 10MW of power generated at Corkermore will be generated by 5 state-of-the-art Gamesa wind-powered turbines.
Each turbine has a tower height of 60 metres, a blade diameter measuring 80 metres, and has the capacity to produce 2,000kW of green electricity.
Energia is a leading all-island player in the provision of renewable power and has been one of the most significant contributors to Ireland's renewable targets.
The company currently has over 300MW of operational windfarms, and a further 540MW in development.
They have also successfully completed a number of financing rounds for new facilities, including securing over €115m in funding for over 100MW of renewable asset development.
Peter Baillie, Managing Director Energia Renewables, commented; "Our new windfarm at Corkermore is a win both nationally and locally.
"Nationally, it will move Ireland a little closer to achieving its target of generating 40% of national supply from renewable sources by 2020. Locally, it means a boost for investment and jobs in the surrounding area in South Donegal, as well as increased rates for Donegal County Council.
"The local communities are also benefitting from infrastructure improvements, income for Killybegs Port,  rental income for the landowners, supply of materials and plant hire as well as hotels and guesthouses providing  hospitality to the construction workers.
"Developing a project like this involves many stakeholders, both individual and  statutory  and Energia appreciates the co-operation and assistance from all stakeholders involved.
"Energia is proud to be one of the most significant contributors to the achievement of Ireland's renewable targets and one of the largest investors in the renewable sector. We currently have 174 MW of directly-owned renewable generating assets either fully on-grid or coming on stream on an all-island basis.
"By 2012, the company will supply over 840MW of Ireland's renewable power, or around 25% of the Irish renewable market."
Energia has a 28% market share of the Irish business electricity and gas market supplying the energy needs of over 65,000 business customers.
ends