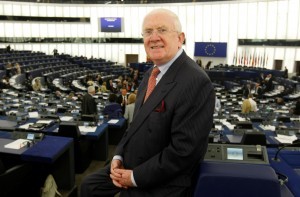 Pat the Cope Gallagher MEP has today addressed the European Parliament in Strasburg to condemn the murder of Constable Ronan Kerr in Omagh on Saturday. 
He thanked the European Parliament President Jerzy Buzek for his statement describing the attack as a pointless and despicable crime.
Following today's Parliament sitting, MEP Gallagher commented: "President Buzek's strong condemnation of the callous murder of Constable Ronan Kerr shows that Europe stands firmly behind Ireland in our refusal to accept a return to the violence of the past.
"In Strasburg today, I spoke on behalf of every member of the European Parliament in expressing my shock and outrage at this heinous crime. This was a cowardly act, carried out by deluded killers who believe they can break the peace on our island.
"But Ireland will not be returned to a time of fear and violence and the murder of Ronan Kerr only serves to remind us of that. Every support must be given to the PSNI to ensure that the perpetrators are brought to justice.
"I wish to pay tribute to Ronan's mother, Mrs Nuala Kerr, for her courageous statement urging Catholics not to be dissuaded from joining the PSNI.
"She has displayed remarkable courage at a time of enormous personal grief. Ar Dheis Dé go raibh a anam uasal."
Tags: