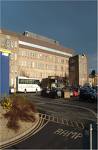 The Healthstat survey of the State's 29 main acute hospitals has found that the Letterkenny General Hospital is amongst the best performing in the country.
The local hospital was joined on the top list by James's Hospital, St Collumcille's Hospital, Cavan General Hospital and St Vincent's University Hospital.
The survey found University College Hospital in Galway – to where many Donegal patients are referred for many treatments – to be the only hospital in the "red" zone, indicating that the level of service requires attention.
The figures for UCHG for January show that in excess of 40 per cent of patients were waiting 12-24 hours to be admitted through the hospital's emergency department, with less than 5 per cent waiting in excess of 24 hours.
In the Healthstat's "red", "amber" and "green" marking system, UCHG scores red under a number of headings including consultant contracts compliance, funding, variance with staff ceiling and waiting times for elective procedures. The hospital did record a "green" in relation to patients in urgent need for colonoscopies along with day case rates. Having the third worst absenteeism rate, behind Navan and Cavan General Hospitals, contributed to UCHG's overall performance.
A spokeswoman for the HSE West said last night: "Senior management at Galway University Hospitals have been working closely with the Regional Director of Operations, HSE West, the National Director for Integrated Services and the CEO to address issues raised by HealthStat.
"We recognise that there are opportunities for improvement which are not resource dependent and these are being prioritised by quality improvement, clinical and administration support groups within the hospital."
Tags: