ONE swallow might not make a summer but Donegal has become one of the first counties to welcome back Ireland's favourite summer visitors.
And according to Birdwatch Ireland, the amazing little birds are getting earlier and earlier each year.
Niall Hatch of Birdwatch Ireland confirmed that counties Donegal, Wicklow and Wexford have already reported sightings of the bird which travel here each year from South Africa.
However he says it will not be until the end of the month when the majority of the birds begin to arrive across Donegal.
"We have had a few reported sightings from places like Donegal and Wexford. We even had one from Cork in late February but that was freakishly early," he said.
Research by Birdwatch Ireland has shown that swallows are now arriving in Ireland two weeks earlier than they did 20 years ago.
Niall says they think there is a direct link between increasing temperatures and the availability of food for the incredible little birds.
"They live solely on flies and water and they wait until there is an increase in temperature so there is an availability of food.
"Our study shows that they are arriving on average about two weeks earlier than they did 20 years ago and that's probably because of global warming," he said.
A staggering 500,000 of the birds will travel for two months from South Africa stopping off in France and Spain before arriving in Ireland.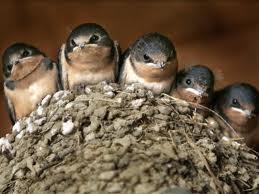 Niall revealed that swallows who return each year of their average four to five year lifespan will return to the exact same place to breed before they return to South Africa in late September or early October.
"People in Donegal who are looking at swallows nesting in their garage or at the side of their house are most likely looking at the offspring of swallows returning year after year," he said.
But sadly, of the 100 off-spring a pair will produce in their lifetime, only an average of two will survive.
"That's nature balancing things out. If three were to survive then the population would increase by 50% and that would throw things off.
"The vast majority of the birds die either coming to Ireland or returning home to South Africa for the winter months," he revealed.
However Niall said he cannot ever see a situation where swallows become a bird which will remain in Ireland all year 'round.
"There simply wouldn't be enough food for them and our winters would be far too harsh.
"If that ever happens then we know our planet is in real trouble," he said.
A project called Spring Alive, being carried out by Birdwatch Ireland, is also examining the migratory patterns of other Irish favourites including the cuckoo and the swift.
Ends
Tags: