The Chairperson of the Donegal County Community Forum, Paula Leonard, has been elected to the Irish National Community and Voluntary Forum (INCVF) National Executive.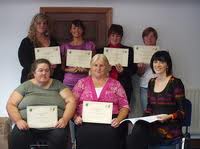 Paula was one of 10 out of 23 candidates elected to the Executive at its AGM in Dublin on Saturday, April 2nd. Over a hundred delegates from throughout Ireland attended the event.
The INCVF is the national representative body of County and City Fora which were established as part of the local government reform process. 
Established in November 2003, this national structure supports County Community and Voluntary Fora in their role in representing the community voice in local government structures.
 Two other delegates, Lawrence McManus from the South Forum and Seamus Rodgers from the Gaeltacht Forum also attended the meeting and were delighted to have a Donegal delegate elected on the day. 
Seamus Rodgers, who previously served on the INCVF, welcomed the election of the Donegal chairperson to the National Executive, emphasising that this is a critical time to have issues effecting communities in Donegal heard at the National level.
Speaking after her election on Saturday, Paula highlighted her reasons for seeking to become involved in the national structure at this time.
"There have been huge cutbacks to the community sector over the past eighteen months, and although the INCVF is only one way to lobby around these issues, it will give us an important voice nationally.
"The INCVF will be meeting various Government Ministers over the coming weeks and I will be using this opportunity to let them know that the cuts to the poorest and most vulnerable in society cannot continue.  
"The Donegal County Community Forum will continue to lobby both locally and nationally to ensure retention of essential supports and services provided by community and voluntary groups," she said.
Ends