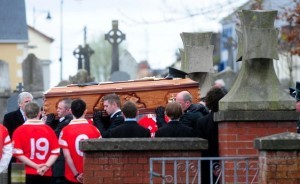 A man has been arrested in connection with the murder of PSNI officer Ronan Kerr – just hours after the funeral of the Co Tyrone policeman.
PSNI officers and members of the GAA stood side-by-side today as almost 1,000 mourners turned up in the tiny Tyrone village of Beragh to say a final farewell to the 25 year old.
As the funeral was taking place a 26 year old man was arrested in Scotland and is to be extradited back to Northern Ireland for questioning about the bomb which killed Constable Kerr last Saturday afternoon.
In a united show of strength, sympathisers from different religious and cultural backgrounds stood united in remembering the short life of Ronan at today's funeral mass.
Many mourners had to stand outside the Church of the Immaculate Conception as people came from across the region to show their determination that Northern Ireland is not about to be cast back into its darkest days.
Members of the dead policeman's local GAA club The Beragh Red Knights took it in turns with PSNI officers to carry Ronan's coffin the short distance to the church on the edge of this small rural village.
Tragic Ronan's heartbroken family including his mother Nuala, bothers Cathair and Aaron and sister Dairine walked directly behind the coffin.
The late policeman's father Brian died 18 months ago from cancer.

A huge churchbell in the grounds of the church was the only noise to break the deadly silence of the April air.
Inside the church Fr.John Skinnader, a second cousin of the dead officer, recalled only meeting him a few days earlier and thought what a fine young man he had become.
"Seeing him behind the wheel of the police car, I thought to myself, there is the symbol of the new Northern Ireland – a young man living out his childhood dream to be of service to others – to help, protect and to make life safer for others. To be a peace builder in communities and between communities.
"Ronan loved life – he loved others – and that is the legacy he left us – not to hate but to love," he said.
He recalled when Ronan was a young boy and that he and his brother Cathair and Aaron were always mucking about and getting into boyhood mischief.
"I told him it wasn't so long ago that he and his brothers were calling me Fr.Ted or Fr.Jack," he laughed.
In his address to mourners, Cardinal Daly appealed to people never to glamourise terrorism. 
"Parents and grandparents, I beg you – plead with your children and with your grandchildren not to get involved with violence.
"Never let them be deceived by those who say that Ireland will be united or the union made more secure by war.
"They are wrong. It's an illusion. Violence has nothing, absolutely nothing to offer except misery and destruction," he said.
"Choose life, I say, choose goodness, choose peace. That is what God is asking of you. That is what the people of all traditions have been saying to all of us, loud and clear, since the moment of Ronan's tragic death on Saturday last – "We do not want this. You do not act in our name.' In God's name stop – and stop now," he said.
To mark Ronan's life various offertory gifts were brought to the alter. They included a toy car to remember his love of cars, a GAA jersey to remember his love of the GAA and his PSNI hat to remember his love of his career.
Tears flowed as those gathered heard how Ronan lived life to the full and had a passion for both Tyrone GAA team and also Manchester United.
Among those in the congregation were political leaders from both Northern Ireland and the Republic were also there to mourn the young man who always wanted to be a police officer.
They included Taoiseach Enda Kenny, Fianna Fail leader Micheal Martin, the North's First Minister Peter Robinson, Deputy First Minister Martin McGuinness and Sinn Fein President Gerry Adams. It was Mr Robinson's first time at a Requiem Mass.
The various political leaders arrived at the church together having met earlier at Kelly's Hotel just a few miles away.
Also present was Tyrone GAA manager Mickey Harte who helped to carry Ronan's coffin, the President of the GAA Christy Cooney and Michael Gallagher whose son Aidan was killed in the Omagh bombing in 1998 just six miles away.
A strong national and international media presence kept a dignified distance from the funeral ceremony which was marshalled by both the PSNI and the GAA.
Members of the Beragh Red Knights, the PSNI, and local schoolchildren from Drumduff Primary School formed a guard of honour as the body of PSNI number 23536 was carried into the church.
Taoiseach Enda Kenny ordered the tricolour to be flown at half-mast for two hours today as a mark of respect to the young officer killed by a car bomb in Omagh on Saturday afternoon last.
Investigators hunting down those responsible for placing the booby-trap bomb beneath Constable Kerr's car have already joined forces with Crime-stoppers who are offering a €57,000 reward for information leading to the killer's capture.
After his funeral mass, the body of Constable Kerr was taken to St.Patrick's graveyard in nearby Drumduff where he was buried.
Overhead grey skies looked down on the mourners who had hoped that the last sad chapter in Northern Ireland's history had already been written before last Saturday's brutal murder.
They can now just pray that Ronan Kerr's was the last.
 Ends
Tags: