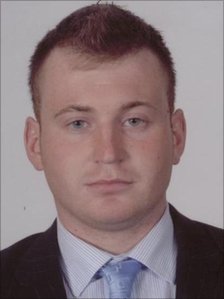 THOUSANDS of people are expected to attend the funeral later today of murdered policeman Ronan Kerr, killed in a terrorist explosion in Omagh last Saturday.
Political and church leaders from Donegal are expected to join Taoiseach Enda Kenny and the North's First and Deputy First Minister Peter Robinson and Martin McGuinness at Requiem Mass for the 25-year-old.
It will be the first time Mr Robinson has been to a Catholic service. He said it was right for him to attend.
Requiem Mass for Constable Kerr will take place at the Church of the Immaculate Conception in the County Tyrone village of Beragh where he was brought up.
Mr Robinson said he recognised it was a decision "that not everyone will agree with".
"But I hope people will understand that that this is a murder of a young man – that it is right that the political establishment stands up and makes it very clear that they stand with his family," he added.
The Irish Congress of Trade Unions has organised a lunchtime rally in Belfast today to allow people to express their abhorrence at his murder.
Ronan Kerr was a keen GAA enthusiast who played for his local club, Beragh Red Knights.
The club's chairman Gearóid Ó Treasaigh said the young officer's decision to join the police had the support of his team mates.
He went on: "Ronan Kerr was a Catholic, an Irishman and a Gael who joined the PSNI because he wanted to play his part in making our society a better place," he said.
"Many members of our club were aware of Ronan's career path and supported him on his choice.
"We also send a strong message today to all of those people who continue to engage in this activity – you have no support in our community and your actions do not represent the views and feelings of the vast majority of people in Ireland."
Last January Police Constable Peadar Heffron lost a leg after a bomb exploded under his car in Randalstown, Co Antrim. He is a fluent Irish speaker and GAA enthusiast.
Meanwhile Sinn Fein supporters in Omagh believe the bombers did not come Omagh where there is no support for them.
One source suggested an attack may have been mounted by dissidents based in the Strabane area of Tyrone and across the Border in Donegal.
Dissident groupings are believed to have 600 to 800 members, with southern members providing logistical support for northern dissident units, including bomb-making expertise.
Taoiseach Enda Kenny is believed to have been briefed by Garda Commissioner Martin Callinan on the attack and the threat from dissidents south of the Border.