A Ballybofey boxer has followed his career to the 'letter' of the law and has now been given the 'stamp' of approval for all his hard work.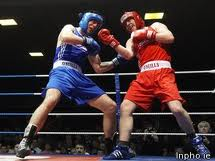 Well-known Twin Towns boxer Stephen O'Reilly is to feature on a unique 55c stamp which is being produced by An Post on May 14th next.
Stephen, who is a favourite to land a place on the Irish boxing team for the Olympics, has known about the honour for months but was asked to keep it quiet.
The picture featured on the stamp is the Donegal man's gruelling encounter in 2009 with David Joyce in the semi-final of the Irish Middleweight championships.
Although the stamp will not be available until mid May, Stephen, his proud family and members of the Twin Towns Boxing Club will be travelling to Dublin next Wednesday to receive advance copies of the unique stamp.
Ends
Tags: