A number of people from Donegal including members of Letterkenny Gaels GAA club and several Gardai attended the funeral of murdered PSNI officer Ronan Kerr.

It has emerged that Ronan's brother Cathair worked in the Pramerica plant in Letterkenny before he travelled to Australia.
He also played for Letterkenny Gaels and a minute's silence will be observed at the club's game against Naomh Padraig from Lifford tomorrow night.
Both the Donegal County Board and Donegal County Council have expressed their sympathy to the Kerr family on the loss of their son and brother.
The 25 year old from Beragh in Tyrone was killed when a bomb exploded under his car in Omagh last Saturday afternoon.
One couple, Bridget and Raymond McLaughlin, who travelled from Donegal to attend the funeral, said they wanted to make a stand against those who had taken Constable Kerr's life.
"We are friends of the deceased's father, Brian, from years back, but we moved away and lost touch over the years," said Raymond.
"His father was light-hearted and it seems as if the young chap was the same."
He said the service had been "very sad, but lovely".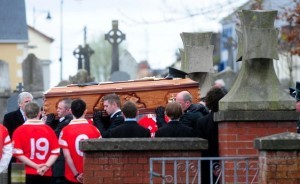 "But I think it shows a side to Northern Ireland that isn't seen that much, which is comforting. It was good to see both sides speaking out. I don't think anybody could leave that thinking there was any ambiguity.
"It's important, that's why we went today. We live in Donegal and we came here because it's important to come and stand there and show our support not just for the family but the whole big picture, to send out a message.
"I think there was a lot of people there to send out that message."
His wife Bridget said they had been shocked to hear Constable Kerr's name on the news as the young officer who had been killed in a car bomb.
She added: "I thought there was very strong symbolism to see the GAA and police standing together, it was very nice to see. I think people are beginning to stop being afraid."
eNDS
Tags: