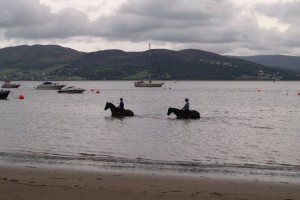 FEARS are growing that more explosive devices may be washed up on Donegal's beaches after the incident in Rathmullan earlier this week.
Yesterday donegaldaily revealed that Army bomb disposal squad officers rushed to Milford Garda station to take away a device which had earlier been found on the strand at Rathmullan.
The incident is similar to a number of others along the north coast of Ireland which have been blamed on old World War 1 and World War 2 sea arms dumps.
Flares and grenades have been washed ashore in counties Donegal, Derry and Antrim over the past 20 years.
In one incident in Antrim more than 20 devices were washed ashore.
A man out for a walk in Rathmullan discovered the latest device and handed it in to Gardai in Milford.
Today one local man out for a walk on the beach told us: "I read the story on donegaldaily and was shocked.
"It won't put me off coming out here again; but it will make me think more carefully about where I walk in future."
Gardai say anyone seeing anything suspicious should not touch it, but report it to their nearest station.