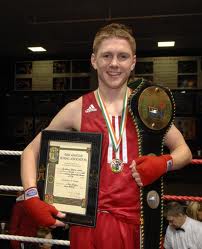 FINN Valley Boxing Club middleweight Jason Quigley is celebrating after landing gold at a top European tournament – and being named Best Boxer of the entire event. 
In all Ireland won five gold medals from five finals to finish on top of the medals table at the 15-nation Gee Bee Multi-Nations tournament in Helsinki on Sunday.
Michael Conlon, David Oliver Joyce, Jason Quigley, Ken Egan and Tommy McCarthy all had their hands raised in triumph.
Finn Valley BC Donegal middleweight Jason Quigley and St John Bosco BC Belfast flyweight Conlon – who both recorded victories over England – added the icing on the cake by scooping the Best Boxer and Best Technical Boxer of the tournament awards.
Egan, meanwhile, won his third Gee Bee gold medal on the trot with a 3-2 decision over Eemeli Katajisto of Finland in the light-heavyweight class.
Belfast heavyweight Tommy McCarthy produced a quality performance to beat French 2008 Olympian John M'Bumba, a two-time AIBA World bronze medalist,
12-9.
St Michael's Athy lightweight David Oliver Joyce registered Ireland's second victory of the session with a 9-4 verdict over Luke Jackson of Australia.
Conlon got the gold rush underway with a convincing 11-5 decision over England's Tony Stubbs and Quigley was superb in his 13-5 win over Stubb's compatriot Anthony Ogogo.
Jimmy Halpin and Connor Quigley were working Ireland's corner in Helsinki.